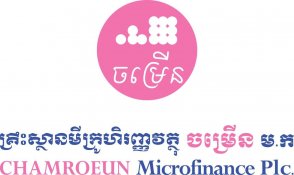 Company Profile 1. VISION: "A leading Cambodian social microfinance institution working to achieve positive and lasting changes in the livelihoods of economically active poor families in a socially responsible manner" 2. MISSION: "To improve the livelihoods, skills, and self-confidence of poor families in Cambodia by providing responsible microfinance and complementary socio-economic services" 3. CORE VALUES: ■ INTEGRITY: Chamroeun provides financial services and socio-economic services to its clients to enhance their well-being. It achieves this ethically and with transparent, fair, and cost effective methods. This manner is also applied to Chamroeun's other stakeholders. ■ QUALITY OF SERVICES: At Chamroeun, we believe that our clients deserve tailored as well as efficient services. We provide these services in a convenient, proactive, and timely manner. ■ TRANSPARENCY: At Chamroeun, we provide our clients and other stakeholders with complete and accurate information about the terms and conditions of our products and services. Information is provided in a user-friendly manner to enable them to easily understand those terms and conditions. ■ FAIR PRACTICES: At Chamroeun, we ensure that the services we provide to our clients as well as the interactions we have with other stakeholders are not unethical or deceptive. We are committed to building relationships that are based on respect, fair treatments, and courtesy. ■ CONFIDENTIALITY: Privacy of our clients and other stakeholders is strictly safeguarded and stored, and such data is only used upon their consents, and they are well informed on specific purposes of data usage. ■ NON-DISCRIMINATION: Chamroeun considers its clients and other stakeholders as value assets and take all of efforts to make sure that the institution treats them in appropriate manner.
Company Industry
Banking, Financial Services

No. of Employees
50-200
Address
Phnom Penh/#425, St. 271, Sangkat Toul Tompong II, Khan Chamkarmoan, Phnom Penh, Cambodia
Hiring
Employee
Type of Employment
Full time
Job Location
Kampong Speu

Salary Range
$230
Salary Benefits
230$
Job Reference No.
LO-8771-0720
Job Category
Accounting, Banking, Finance & Insurance

Company Industry
Banking, Financial Services

Summary of Position
Chamroeun Microfinance Plc: Currently, we are looking for a Loan Officer.
Main Duties and Responsibilities
ផ្សព្វផ្សាយឱ្យបានទូលំទូលាយនូវផលិតផល និងសេវាកម្មរបស់គ្រឹះស្ថានចម្រើន ដើម្បីទាក់ទាញដៃគូសក្តានុពលទៅតាមតំបន់គោលដៅ
វាយតម្លៃដៃគូ និង ទ្រព្យធានាប្រកបដោយប្រសិទ្ធភាព
សម្របសម្រួលដំណើរការនៃការបញ្ចេញឥណទាន
ត្រួតពិនិត្យ និង រក្សាគុណភាពឥណទានក្រោយពេលផ្តល់កម្ចីដល់ដៃគូ
ការងារដទៃទៀតតាមការចាត់ចែងរបស់អ្នកគ្រប់គ្រងផ្ទាល់ក្នុងក្របខណ្ឌគ្រឹះស្ថានចម្រើន
Experience Required
-
Minimum Educational Level Required
High School or equivalent
Minimum Career Level Required
High School Student
Languages Required
Khmer
Other Requirements
ត្រូវមានចំណេះដឹងទូទៅយ៉ាងហោចណាស់ត្រូវបានបញ្ចប់ថ្នាក់ទី១២ និងមានអទិភាពសម្រាប់និស្សិតថ្នាក់បរិញ្ញាបត្រគ្រប់ជំនាញ
មានចំណេះដឹងដូចជា៖ លេខនព្វន្ត និងការកត់ត្រាឱ្យមានភាពត្រឹមត្រូវ ភាសាអង់គ្លេស ដែលអាចអានស្តាប់ និងសរសេរបានខ្លះៗ
មានប្រវត្តិ និងអត្តចរិតល្អ មានភាពស្មោះត្រង់ ម៉ឺងម៉ាត់ សុភាពរាបសារ មានសុជីវធម៌ល្អ និងមានឆន្ទៈក្នុងការធ្វើការងារជាមួយប្រជាជនក្រីក្រនៅតាមសហគមន៍
មានប្រាស្រ័យទាក់ទងល្អ ចូលចិត្តធ្វើការងារជាក្រុម ជាមនុស្សឧស្សាហ៍ព្យាយាម និងមានការប្តេជ្ញាចិត្តខ្ពស់ចំពោះការងារ
Application Deadline
Friday 17 July 2020
---
---
Send email
Any enquiries? Call us : 023 22 44 22