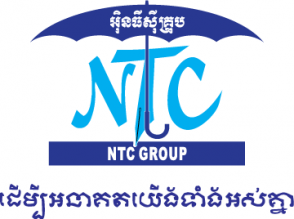 NTC GROUP, which consists of Sovannaphumi School, Bridgeton School, Newton Thilay School, East-West International School, and American Pacific International School, commits to be one of the leading educational communities in Cambodia that is locally and internationally recognized for the formal and non-formal education that are being offered to Cambodian and non-Cambodian, in partnership with the Ministry of Education Youth and Sports in the development of human resources in Cambodia. We now urgently seek qualified candidates to fill in the following positions.
Company Industry
Education

No. of Employees
>200
Address
No.100, Pasteur Street, Sangkat Phsar Thmey III, Khan Daun Penh, Phnom Penh.
Hiring
Employee
Type of Employment
Full time
Job Location
Phnom Penh

Salary Benefits
Competitive (Working Day: Monday - Friday)
Job Reference No.
NET-5072-0917
Job Category
Education & Training

Company Industry
Education

You like this job but not for you? Share it with your friends.
IEP-Native English Teachers-Early Learning & Primary Program (10 Posts)
Summary of Position
NTC GROUP is looking for Native English Teachers.
Main Duties and Responsibilities
1. Instructional Planning & Program Materials Delivery
Plan lessons to meet children's physical, emotional, social, moral, and linguistic development
Incorporate a variety of instructional strategies when designing learning experiences that promote children's physical, social, emotional, linguistic, and cognitive development
Provide learning opportunities that promote children's all development areas
Provide instruction, organization management the classroom, which creates respectful environment and conducive to learning
Support children's development of language and literacy, social-emotional skills, and physical well-being by using age appropriate techniques
2. Materials Design and Development
Create, select, evaluate, and incorporate developmentally appropriate materials and equipment into the instructional plans
Use instructional materials which are developmentally appropriate
3. Classroom and Student Behavior Management
Create a secure class atmosphere, physical surroundings, and seat arrangement
Make sure children understand the connection between behavior and consequence
Respond to challenging behavior in ways that match the child's development
Remain calm and respectful toward the child exhibiting challenging behavior
4. Nurturing and Positive Learning Environment
Other Requirements
Native English speakers
Bachelor Degree in Education/ Teaching or other related fields (Master Degree is mostly preferred.)
Certificate in TEFL or TESOL (mostly preferred)
Certificate in Early Childhood Education & TEYL (mostly preferred)
At least 2 year experience in teaching young learners
Computer literacy
Ability to create warm, positive, and nurturing learning environment
Ability to create and provide learning activities and materials which support children's language, social-emotional, creativity, and physical development
Ability to observe and assess children's all development areas appropriately in order to support their progress at the right level
Ability to create and maintain good and positive relationship with young learners, colleagues, and students' parents
Presentation of good interpersonal and communication skills, and organizational skills
Ability to work collaboratively in team, creatively initiate new improvement plans, be flexible, and work with variety of tasks
Strong enthusiasm, commitment, and professional ethics
Pleasant personality
Salary and Benefit
We are offering a competitive salary depending largely on your experience and educational background
How to apply: Please send only your cover letter and CV attaching a passport size photo to us at ntcgroup@topjobcambodia.com (only short-listed candidates will be notified)
Please always put your email subject as "Application for XXXX (position you applied)" and rename your attached file in your full name, i.e. CV_Name. Please put all your attached documents into one file only (not over 2MB)
Contact address: No.100, Pasteur Street, Sangkat Phsar Thmey III, Khan Daun Penh, Phnom Penh
Closing date : September 22, 2017
Application Deadline
Friday 13 October 2017
---
---
ntcgroup@topjobcambodia.com
Any enquiries? Call us : 023 5445 006